India Deploys T-72 Tanks in Ladakh to Counter China's Military Build-up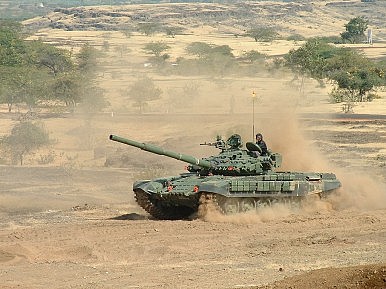 The Indian Army appears to have moved over 100 tanks to its disputed border with China.
By Prakhar Gupta
July 20, 2016


For the second time in its entire history, the Indian Army has moved over 100 tanks to the frontline in Ladakh, a geostrategically important region located along the so-called Line of Actual Control (LOC) in the Indian state of Jammu and Kashmir. Almost five decades ago, in a desperate attempt to use tanks against the invading Chinese army, the Indian Mechanized Division had airdropped five tanks in Ladhak, which has witnessed frequent incursion attempts by the Chinese People's Liberation Army (PLA) in recent years.

A calculated strategic maneuver by the Indian Armed Forces, the deployment of tanks in the disputed region is aimed at reinforcing the Indian position in the valley overlooking China's Tibet Autonomous Region.

Much to New Delhi's displeasure, China has undertaken massive reconstruction and development projects on its western border with India in the recent years. Also reported by Pentagon, China's aggressive militarization campaign in the region has been a cause of concern for India. "We have noticed an increase in capability and force posture by the Chinese military in areas close to the border with India," U.S. Deputy Assistant Secretary of Defense for East Asia Abraham M. Denmark, told reporters during a press briefing after the Pentagon submitted its annual report on "Military and Security Developments Involving the People's Republic of China."

In a report published by The Hindu, Lt. Gen. SK Patyal, the general officer commanding the Leh-based 14 Corps, which is in charge of the eastern sector with China and parts of the Line of Control (LOC) with Pakistan, was quoted as saying: "We have to defend our borders. So whatever it takes us in terms of infrastructure development, in terms of force accretion, we have to do in the best manner."

If reports in the Indian media are to be believed, T-72 battle tanks of Russian origin were moved to eastern Ladakh, located at 14,000 feet above sea level, six to eight months ago. Starting in 2014, two regiments of T-72 tanks have been moved to the valley. The third regiment is scheduled to arrive soon, forming a complete brigade. As more tanks are expected to arrive, the feasibility of maintaining the combat readiness of mechanized equipment in an area where the temperature drops down to -45 degrees Celsius has been called into question.

While the flat terrain of the valley provides for the movement of heavy mechanized equipment such as India's formidable T-72 tanks, the Indian army takes special precautions to maintain these sophisticated machines.
Colonel Vijay Dalal, who commands the tanks, noted that the "air is in the region is rarified and temperatures go down to -45 degrees Celsius." The low temperature in the region affects the performance of the tanks. The Indian military, the commander said, uses special lubricants and fuel to keep the tanks running, and added that at least twice every night, the engines are revved up to keep the systems in order.

After a humiliating defeat in territorial scuffles in 1962, and with China's subsequent rise to power in Asia, the Indian government neglected development in the border region in an attempt to promote peace and stability. In view of China's rapid development drive in the disputed region around Ladakh, the outlook in New Delhi has changed considerably.

An officer posted in the region, as quoted by The Hindu, said, "There is not much accretion by China, but their logistical capability has gone up."

In a bid to match with China's military and infrastructure build-up across the border, India has undertaken the construction of roads to facilitate movement of armored vehicles and heavy equipment as well as the development of existing airstrips and advanced landing grounds to expedite the flow of troops and supplies to the area — unreachable by land for most of the winter.

Prakhar Gupta is a foreign affairs analyst and an independent journalist. His work has appeared in the Indian Defence Review, South Asian Voices, Eurasia Review, and Youth Ki Awaz, among others. http://thediplomat.com/2016/07/india-deploys-t-72-tanks-in-ladakh-to-counter-chinas-military-build-up/