The Iran Nuclear Deal

A historical accord, or a historical mistake? Depends on whom you ask, and what they have at stake. Months of preparation, two weeks of final intensive discussions in Vienna, eight parties involved, and the final result? A 159-page agreement with five annexes, the Iran nuclear deal is making headlines across the globe as a landmark historical agreement between extreme opponents.

It's just the start. The deal actually elaborates a lengthy process spanning over 15-25 years. It will be supervised by an eight-member committee, including Iran, the United States of America, Britain, France, Germany, Russia, China and the European Union.

Here is a layman's guide to the nuclear deal of Iran, what it encompasses for the different nations involved, its economic and political impacts, key timelines of the development, and the areas of concern.

In a nutshell, the agreed-upon nuclear deal aims at limiting Iran's ability to produce a nuclear weapon, in exchange for the removal of various sanctions imposed on it internationally.
The Background

Based on the revelations of an Iranian exile group in 2002, Iran is suspected to have nuclear facilities. Following inspections by the International Atomic Energy Agency (IAEA) and subsequent discoveries, Iran continues to proceed with nuclear developments despite international opposition. In 2006, the United Nations imposed sanctions on Iran, which were followed by similar actions from the USA and the EU. Since then, bitter confrontations have been ongoing between Iran and the world powers.

These sanctions--primarily on Iran's oil business, weapons sales and financial transactions--have severely hurt Iran's economy. The current geo-political situation is also posing a challenge to oil prices globally, as Iran is one of the largest producers of crude oil. The deal ends a decade-long conflict between the world powers and Iran.
The Parties Involved

The deal was negotiated between Iran and a group of counterparts that included the US, Russia, Britain, Germany, France, China, and the EU.

The supporters of the nuclear deal affirm benefits, which include the best-possible guarantee from Iran that it will refrain from producing a nuclear arsenal. This will also be an important step towards establishing peace in the volatile Middle East region. (related: Oil and Terror: ISIS and Middle East Economies)
Main Points Of The Iran Nuclear Deal

To make nuclear bombs, the uranium ore mined from earth needs enrichment to either Uranium-235 or to Plutonium. Uranium ore mined from earth is processed via devices called centrifuges to create Uranium-235. Uranium ore is processed in the nuclear reactors which transforms it into Plutonium.

Under the deal, Tehran will reduce the number of centrifuges to 5,000 at the Natanz uranium plant--half of the current number. Nationwide, the number of centrifuges will reduce from the current 19,000 to 6,000. The enrichment levels will be brought down to 3.7 percent, which is much lower than the 90 percent needed for making a bomb. The stockpile for this low-enrichment uranium will be capped to 300 kilograms for the next 15 years, down from the present 10,000 kilograms.

The Arak nuclear reactor will not be used to produce any plutonium, and any existing produce will be shipped out of Iran.

No new reactors will be built by Iran for the next 15 years.

"Breakout time" is the benchmark used to indicate a nation's capability to produce a nuclear bomb. Currently estimated to be a few months, Iran has agreed to extend the breakout time to at least one year. This duration gives enough time to other nations to detect activities and initiate action against Iran in case it commences building nuclear weapon.

All these measures will severely restrict Iran's capability to make a nuclear bomb, and will ensure nuclear power usage is limited to civilian use only.

Monitoring and inspections are expected to be much stricter, more detailed and more intrusive, compared to those in the past.
Next Steps and Immediate Timelines

As the deal is finalized, a UN Security Council resolution will be passed in coming days to revoke all earlier resolutions against Iran, approve the agreed deal, and propose a timeline for removal of each existing sanction against Iran.

By August 15, 2015, Iran will submit written responses to the questions raised by the International Atomic Energy Agency (IAEA), about its nuclear program and developments. It will also allow monitoring of its facilities by IAEA inspectors on or before October 15, 2015.

Based on the findings, IAEA will present a report about Iran's commitment towards the agreed points by December 15, 2015. This report will be important for decision making regarding sanction removal.
Removal of Sanctions

The UN Security Council resolution will theoretically cancel all imposed sanctions on Iran. But in reality, many of those will be re-imposed with new timelines and conditions.

First, the oil embargo preventing the import of oil from Iran will be removed. (See related: Possible Effects Of An Iran Embargo) The USA and EU will lift oil and trade related sanctions. Foreign companies will then be allowed to purchase oil from Iran, US companies located outside the USA can trade with Iran, and imports of selected items from Iran will be permitted. American manufacturers will be allowed to sell civilian airplanes to Iran. (Related: How Embargoes Affect International Business)

Simultaneously, sanctions on Iran's banking and financial systems will go away. It will enable the immediate release of around $100 billion currently lying frozen in Iranian bank accounts overseas.
Other Benefits

Immediately after the deal announcement, government officials from major European countries are already reported to be planning visits to Iran to explore business opportunities.

Some of the main challenges faced by Iran during the sanction period were Iran's shrinking GDP, high inflation between 50% to 70% in 2013, and the nation being cut-off from world economic system. All such economic challenges are expected to be drastically improved, once Iran complies with the deal agreement. It will lead to the infusion of billions of dollars into the Iranian economy, paving the way for overall national growth.

The oil economy is expected to rebound, benefiting Iran as well as other global businesses. Lifting sanctions will allow the movement of huge supplies of oil from Iran, which is thought to be sitting on a large stockpile due to years of imposed sanctions. International oil companies like France's Total and Norway's Statoil operated in Iran for years before sanctions were imposed. Such companies, and others, will find new business opportunities. Iran may seek assistance from US oil companies in technical advancement. (See related: The World's Top Oil Producers)

European car manufacturers like Peugeot and Volkswagen were market leaders in Iran prior to the sanctions. They are eager to claim their lost territories in the improved environment.

Although a few sectors like auto, oil and infrastructure had significant interest from foreign companies in the pre-sanction era, the reality is that foreign businesses have had limited presence in Iran since the 1979 revolution. In essence, the Iranian markets have remained largely unexplored by international businesses across many other industry sectors. With this new nuclear deal breaking the deadlock, more international firms are expected to jump the bandwagon, invest in Iran, and contribute to the national economy. The Iranian authorities are expected to be supportive and introduce liberal reforms.
Long Term Commitments

Reduction in enrichment levels of uranium, and reduction in the volume of stockpiles will remain in force for 15 years. Measures towards increased transparency, with access to and inspections of required establishments, will remain for up to 25 years.

Relief to Iran in terms of easing out the imposed sanctions will be introduced in a phased manner, contingent on Iran completing the required mandatory steps. For example, sanctions on conventional arms trade may be removed in around five years, while sanctions on ballistic missiles trade may take eight to ten years.
Key Concerns

US President Barack Obama claims the deal will make US and the world a safer place. However, concerns and opposition are on the rise.

A lot is suspected to be hidden under the covers. Major challenges exist for identifying, administrating and monitoring the atomic facilities and developments in Iran. Complete awareness will be needed about the existing labs, establishments, underground sites, research centers, and military bases associated with nuclear developments. Information about the personnel involved, including scientists, researchers and foreign allies may also be required. Though Iran has agreed to provide the IAEA higher levels of information and deeper levels of access to all nuclear programs and facilities in the country, a lot may still remain unexplored.
The Opposition

The deal, although welcomed by a larger group of nations across the globe, has also seen opposition from a few prominent world leaders. Israeli leader Netanyahu cites the deal to be the one which "paves Iran's path to the bomb." His vehement opposition to the deal comes on the basis of Iran's past history of being a nuclear-capable challenge for the Middle East region, and on the structure of inspection and monitoring terms which allows Iran sufficient time to clean-up before a site can be monitored for suspected activities. Apprehensions are high that the terms of this deal will fail to fully or partially identify, monitor and control Iran's nuclear programs effectively.

In this backdrop, lifting of sanctions will allow Iran to come out ahead, which may lead to challenging times. Allegations from Israel and the Arab world leaders view the deal as being a platform to fund and nurture a nuclear-capable, religious-extremist country. A strengthened Iran leads to serious concerns about security and peace in the region, and to the world as a whole.
The Bottom Line

The Pros and Cons of such a landmark deal are debatable. Most views, claims, and allegations are often politically tuned. For now, the majority across the globe appears to be positive about the Iran nuclear deal.



Read more: http://www.investopedia.com/articles/investing/072715/dummies-guide-iran-nuclear-deal.asp#ixzz3hAFGUTkb
Follow us: @Investopedia on Twitter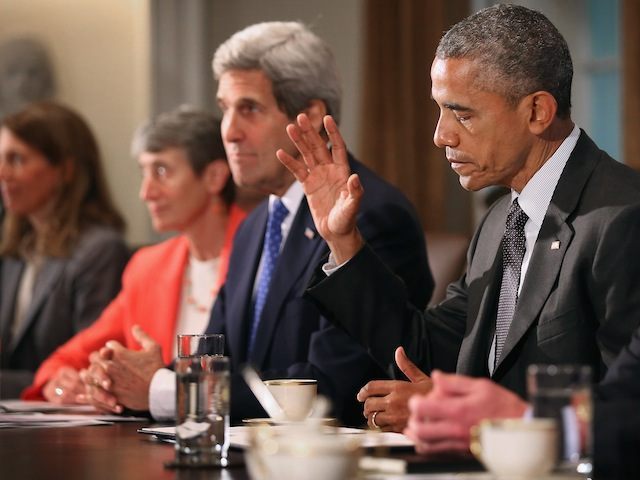 Chip Somodevilla/Getty Images
As Iran and President Barack Obama cheer and champion their controversial nuclear deal, critics are roundly condemning the deal as a historic and catastrophic agreement that will strengthen Iran and imperil national security for America and its allies.
Here, then, are seven facts about Obama's proposed Iran nuclear deal Americans should know:

1. U.S. Nuclear Inspectors Are Banned From Inspecting Iran's Nuclear Sites

Obama National Security Adviser Susan Rice admitted to CNN's Wolf Blitzer on Wednesday that "no Americans will be part of the IAEA [International Atomic Energy Agency] inspection teams."

The administration's claim that the deal provides inspections "anytime, anywhere" is also false. Obama's deal allows Iran to block inspector access to any undeclared nuclear site. As Charles Krauthammer notes, "The denial is then adjudicated by a committee—on which Iran sits. It then goes through several other bodies, on all of which Iran sits" and the whole process may take up to 24 days.

2. Obama's Iran Nuclear Deal Lifts Economic Sanctions that Could Boost Iran's Economy with $150 Billion in Revenue

As the Washington Post reports, "Yet another worry is that the lifting of tough economic sanctions on Iran would provide it with as much as $150 billion in revenue. Some of that money would be spent on infrastructure and the Iranian people. Some of it, critics say, would go to the likes of Hezbollah, Syrian Bashar al-Assad and Iraqi militias that no long ago were killing Americans."

3. The Obama Administration Admits That 'We Should Expect' Iran Will Spend Some of the $150 Billion in Revenues Obama's Deal Gives Them On Their Military and Possibly Terrorism

In the same interview with Wolf Blitzer, Obama National Security Adviser Susan Rice conceded the following: "Yes, it is real, it is possible, and, in fact, we should expect that some portion of that money would go to the Iranian military and could potentially be used for the kinds of bad behavior that we have seen in the region up until now."

4. On the Very Week Obama Brokered His Iran Nuclear Deal, Large Crowds Across Iran Could Be Heard Chanting "Death to America"—And Iran's Ayatollah Ali Khamenei Declared 'Death to America' Just Months Ago

As even the Huffington Post noted under a headline titled, "'DEATH TO AMERICA' JUST LAST WEEK": "Hatred towards the United States remains a basic tenet of Iran's ruling system, on display just last week during an annual protest day that saw large crowds across Iran chanting 'Death to America' and 'Death to Israel.'"

Similarly, as CNN reported, Iran's Supreme Leaders Ayatollah Ali Khamenei called for "death to America" as recently as late March of 2015.

5. Obama's Iran Nuclear Deal Does Not Require Iran to Release Any American Prisoners

Obama's proposed deal with Iran does not require the Iranians to release American prisoners like Iranian-American Christian missionary Saeed Abedini, Iranian-AmericanWashington Post journalist, Jason Rezaian, or U.S. Marine Amir Hekmati.

6. Obama's Deal Allows Russia and China to Supply Iran with Weapons

Russian Foreign Minister Sergey Lavrov confirmed on Tuesday that "weapons supplies will be possible" under the new deal. As the International Business Times reports, "Russia and China will continue to make weapons deals with Iran under U.N. procedures." Krauthammer argues that "the net effect of this capitulation will be not only to endanger our Middle East allies now under threat from Iran and its proxies, but to endanger our own naval forces in the Persian Gulf." He added, "Imagine how Iran's acquisition of the most advanced anti-ship missiles would threaten our control over the Gulf and the Strait of Hormuz, waterways we have kept open for international commerce for a half century."

7. 77 Percent of Americans Oppose Obama's Lifting of Sanctions Against Iran

According to the latest Associated Press-GfK poll, 77 percent of Americans believe U.S. sanctions against Iran should be kept the same or increased, not lifted as Obama's deal calls for.

Prior to the announcement of Obama's controversial Iran nuclear deal, 60 percent of Americans disapproved of his handling of U.S. relations with Iran.

This week, Obama embarked on a 60-day campaign to build support for his controversial Iran nuclear deal.