PM Modi Historic visit to Israel-"I look forward to holding extensive talks with my friend, Israeli PM Netanyahu, who shares a commitment for vibrant India-Israel ties. From boosting economic ties to furthering people-to-people interactions, my Israel visit has a wide range of programmes," Modi tweeted.
PM Modi expected to reach Israel around 4 pm local time. PM Modi will be received by Netanyahu and his senior ministers at the airport. He will then head to the King David hotel in Jerusalem, where he is expected to stay. At around 5 pm, Modi will visit an agricultural farm. He will be shown "precision agriculture", a technique of improving crop yield and productivity using technology efficiently, and will also be shown water management, treatment and purification technologies.

Modi will also pay homage to Indian soldiers at the Indian cemetery in Haifa. At 6.30 pm, he will visit the Holocaust Museum. At 7:30 pm, Netanyahu will host Modi for dinner.

Modi is also expected to meet Holtzberg Moshe, a 10-year-old Israeli boy, who was saved during the 26/11 Mumbai terror attacks. Moshe was an infant then and nanny, who was with him during the attacks, will also meet the Prime Minister. Moshe's parents, Rabbi Gavriel and Rivkah, were among the eight Israeli nationals killed in the 26/11 attacks.

Modi will also address a rally for the Indians living in Israel on Wednesday morning at Tel Aviv Fairgrounds. Around 80,000-85,000 Indian origin people live in Israel. He is also set to address the Israeli Parliament Knesset.

India and Israel are expected to announce strategic partnerships in areas including water, agriculture and space technology.

A deal with the Uttar Pradesh government is also likely to be signed to clean-up a patch of river Ganges apart from setting up of industrial research and development fund of $ 40 million.

On the evening of July 6, Modi will depart for Germany to attend the G20 Summit.
'He's Special': What PM Modi's Israel Visit Means To Indian Jews
At a curry house in central Israel, a poster welcoming Prime Minister Narendra Modi greets patrons even before they encounter the rich scent of spices wafting from the kitchen.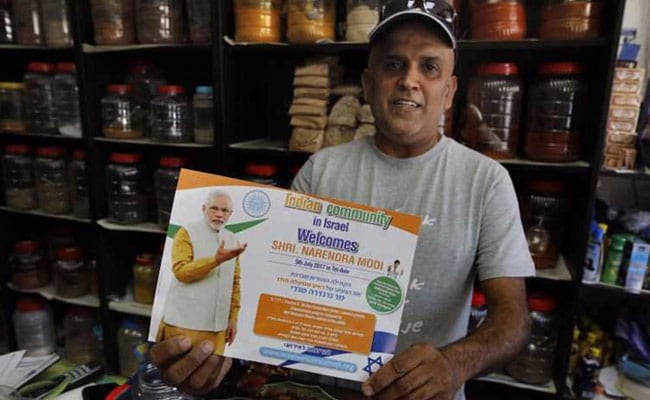 PM Narendra Modi's three-day visit to Israel begins today; Indian community in Israel is excited.
Ramla, Tel Aviv: At a curry house in central Israel, a poster welcoming Prime Minister Narendra Modi greets patrons even before they encounter the rich scent of spices wafting from the kitchen.
PM Modi's three-day visit beginning today -- the first ever of an Indian Prime Minister to Israel -- is a

landmark moment for the Jewish state

, a country seeking the friendship of powerful allies and customers for its advanced military equipment.
But for members of the small Jewish Indian community in Israel, the trip is a cause of genuine excitement and a unique opportunity to increase their visibility.
"There's not a single (Indian) household that's not talking about it.

This is all people are talking about," said Elazar Ashtivker, owner of the Maharaja restaurant in the city of Ramla, south of Tel Aviv. "It's historic," he said.
The fast-talking 33-year-old's parents, who were born in India, opened the restaurant in its first incarnation in the 1980s because they felt "the community was in decline". Initially, the restaurant served the Indian community nearly exclusively.
But in the 1990s the trend of Israelis travelling to Asia after completing their military service became wildly popular, and many returned home with a taste for the Maharaja's spicy delicacies. The restaurant serves what Ashtivker calls "mainstream Indian food" but also sells peppers, vegetables and imported spices.
The wording on the poster is in the colours of the Indian flag and invites members of the Indian community, in Hebrew and English, to a July 5 meeting with PM Modi in Tel Aviv.
"There's a lot of excitement," Ashtivker said. "Everyone has signed up and everyone is going."

"If you looked for Indians in Israel on the 5th you won't find any. They'll all be at the convention centre,"

he said with a laugh.
- 'Invisible Jews' -
Estimates put the number of Jews of Indian origin in Israel at about 100,000, according to Eliaz Dandeker, a historian and author documenting the community.
Even those of Indian origin born in Israel maintain a "deep connection" to their ancestral homeland, said Dandeker, including through music, cinema, food and cultural events.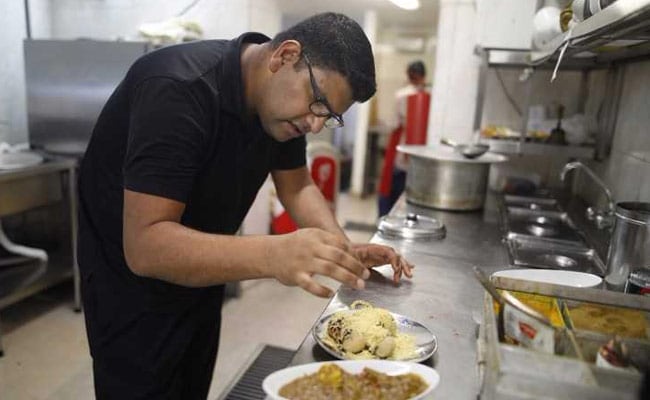 They began coming to Israel en masse in the late 1940s and early 1950s for religious and other reasons.Many of them settled in rural communities to become farmers, while others moved to peripheral towns throughout the country.
In the first years following the creation of the state of Israel in 1948, many Indian immigrants abandoned their names and traditions as part of the era's "melting pot" ideal.
"There's more openness today" to Indian culture, the 34-year-old Dandeker said. "The younger generations want to know more."
- 'He's special' -
In his spice shop near the Maharaja, Shaul Divekar, who emigrated from India as a child, scoops red lentils from a sack into a plastic bag, chatting from behind his counter with two customers.
The conversation fluctuates between the goods that arrived from India and the prime minister who is about to.
Divekar proudly notes he is in charge of one of the seven buses taking Indian Israelis from Ramla to Wednesday's meeting with PM Modi.
"He's special," Divekar said of PM Modi, a Bollywood music video playing on a laptop behind the cash register.
"He likes Jews," proudly offers a tall bearded man in his 30s standing nearby the Indian DVD collection in Divekar's store, his Hebrew heavy with an Indian accent.
Dandeker, the historian, notes that Jewish Indians in Israel have been called the "invisible Jews" since they are neither Ashkenazis from Europe nor Sephardis from Africa and the Middle East.
While members of the community have reached prominence in Israel in fields including medicine and the military, "a lot of them don't stress their origins".
And with many of them having changed their last names to sound more Israeli, "it's hard to spot them," said Dandeker.
PM Modi's visit and its potential to generate interest among Israelis in Indian culture could help raise the profile of the Indian community.
"We expect it to help advance our community," said Ashtivker, the restaurateur. "We're a small community here and don't really stand out."
A
nalysis: Taking India-Israel ties out of the closet
The Jerusalem Post | JPost.com | 2017-07-04T06:18Z http://www.jpost.com/Israel-News/Politics-And-Diplomacy/Analysis-Out-of-the-closet-498695


On a road trip across Israel in late 2014 a young Israeli diplomat accompanying Indian journalists, pointed to a portmanteau of two highway signs for two cities 'Modi'in' and 'Jerusalem'. "Very soon" he said. His optimism will be belied on July 4 this year, when Prime Minister Modi becomes the first Indian PM to visit the Jewish nation.



"Unlike past Prime Ministers, Modi has no inhibitions on openly expressing his admiration for Israel's achievements,"

says G Parthasarathy, former Indian high commissioner to Pakistan. "Others have fought shy because of domestic vote bank considerations."

Prime Minister Modi's July 4-6 visit comes even as he carries out a delicate balancing act in West Asia by simultaneously improving relations with Saudi Arabia, UAE, Qatar, Iran and Israel. India remains one of the handful of major nations who have excellent ties with these countries.
Israeli PM Benjamin Netanyahu hailed 'my friend Narendra Modi's' upcoming visit' as 'historic'. "In the 70 years of this country's existence no India Prime Minister has visited and this is a further expression of the State of Israel's military, economic and diplomatic strength."

Prime Minister Modi's visit might appear largely symbolic coming as it does soon after a spate of recent high-profile visits between New Delhi and Tel Aviv. President Pranab Mukherjee became the first Indian head of state to visit Israel last year and it saw a reciprocal visit by Israeli President Reuven Rivlin in January this year.

Neither has there been a radical shift in India's policy towards Palestine. New Delhi hosted Palestinian President Mahmoud Abbas for a four-day official visit in May evidently to signal this.

In diplomacy, form cannot be divorced from content and that is why Prime Minister's Modi visit to Tel works on both levels. "

The visit is important because in today's day and age, we must be clear who our friends are. Given our orientation of our policy, we need to have better and stronger relations with Israel,"

says Hardeep Puri, formerly India's representative to the UN.

The twin pillars of India's ties with Israel are best described in Prime Minister Lal Bahadur Shastri's 1965 slogan 'Jai Jawan, Jai Kisan' (hail the soldier, hail the farmer).

Defense and agriculture are the keystones of this relationship

and bilateral trade grew from $200 million in 1992 to $4.5 billion in 2016 primarily on the sales of military hardware, agriculture and water technology. The relationship has somewhat stagnated over the past few years and the challenge before the two leaders will be to take it to the next level.

India and Israel have been long term friends. The relationship between the two was intense but stayed in the closet out of fear of upsetting India's Arab allies. India's move to establish bilateral ties with Israel in 1992 came only after several Arab countries had already recognized the Jewish state, a point Indian diplomats used to emphasize in the 1990s. "Are we going to wait for every single Arab nation to establish ties with Israel?" an exasperated Indian diplomat reportedly asked Prime Minister Narasimha Rao as he vacillated over the proposal to establish full scale diplomatic ties in 1992. Rao eventually did take that landmark step 25 years ago.



Israel became India's sole access to sophisticated western electronic equipment following the Pokharan sanctions.

With the opening up of the United States as a major Indian defense equipment supplier, Israel has held steady course as one of India's top 5 hardware suppliers, a remarkable achievement considering it does not make the capital intensive weapon platforms like fighter jets, major warships or submarines that make up a bulk of India's defense imports.

What Israel does offer are cutting edge electronics, sensors, homeland security systems and missiles at competitive rates.


The defense relationship continues at a steady pace. In February, the Cabinet Committee on Security (CCS) cleared a Rs 17,000 crore deal for buying 40 Medium Range Surface to Air Missiles (MR-SAM) systems from Israel to equip the Indian Army's strike corps. There are defence deals worth an estimated $5 billion in the pipeline for electronics, missiles and drones. Cooperation on counter-terrorism is another major area of commonality between the two countries. Prime Minister Modi will emphasize how India and Israel have suffered at the hands of Islamist terror in his

hugely significant meeting with Moshe Holtzberg, a ten-year-old boy whose parents were murdered by Pakistani terrorists during the November 26, 2008 attacks on Mumbai.


Moves are afoot to expand the India-Israel relationship beyond security. On June 25, Prime Minister Netanyahu approved decisions to deepen ties beginning with expanding exports and cooperation in agriculture and water.

Netanayahu's cabinet approved measures to increase by 25 per cent, Israel's non-diamond related exports to India, now $1.38 billion, over the next four years. The cabinet approved the establishment of a joint innovation, research and development fund.
No major defense deals are expected to be signed during the visit. The Jerusalem Post says the trip will focus on furthering cooperation in three areas of critical importance to India in which Israel can provide added value: water management, agriculture and technology.
Clearly, Modi in Jerusalem will leave a lasting impact.
Hand in hand into the future: Indian PM's historic visit to Israel reflects how the two countries are working together on many fronts
Narendra Modi
Times of India Blog
| July 4, 2017, 2:00 am IST
By Narendra Modi and Benjamin Netanyahu
A historic visit to Israel commences today. It will be the first ever of an Indian Prime Minister to Israel. The two of us have met before but this is the first time we do so on Israeli soil.

The natural partnership between India and Israel, formally elevated 25 years ago to full diplomatic relations, has grown stronger from year to year. The deep connection between our peoples reflects our many similarities in spirit, if not in size. Ours are two modern, vibrant democracies that draw on our rich historical traditions while striving to seize the promise of the future for our peoples.

Both our nations are complex. Like yogic asanas grounding down and pulling up at the same time, they face many challenges. By working together we can overcome some of the challenges.

Over the centuries the philosophies and histories of our ancestors inspired one another. Today the entrepreneurial drive of Indians and Israelis brings us closer together. The Jewish community in India was always welcomed with warmth and respect and never faced any persecution. The Jews of Indian origin in Israel are proud of their heritage and have left an indelible imprint on both societies. Both communities serve as a human bridge between our nations.

India and Israel are walking hand in hand into the future as partners. India is a growing economic powerhouse with a large market and talent pool. Israel is a world leader in high technology and innovation. The combination of India's and Israel's human resources and ingenuity will provide more effective and more affordable solutions for us in diverse fields that are priorities for both our governments: agriculture, water, health, environment, education and security.

This unique blend of complementary capabilities has forged strong ties between India and Israel, particularly in the field of technology. From start-ups to space, communications to cybernetics, Israel's technological capabilities are merging with India's. Indian students specialising in advanced research and technical studies are building strong links with institutions of higher learning in Israel. These ties go beyond technological exchange and reflect a long-term developmental partnership.

Fifteen fully operational joint Centers of Excellence under the Indo-Israeli Agricultural Project showcase our mutually beneficial cooperation in the field of agriculture. Together, we are harnessing our respective strengths and learning from each other's experience to generate and cultivate solutions with a distinct India-Israel stamp.

Israel's extreme water crises in the past place it in a unique position to understand India's quest for efficient water solutions. The cost effective adaptation of Israeli technology to India's needs could create new solutions that we could use to help address the water challenges of other developing nations across the globe.

The common challenges we face are not for governments alone to tackle. Undoubtedly our governments will play an important role, but it is the private sector that will propel us forward.

In an effort to involve the business sector as a catalyst of our bilateral relations, India and Israel have taken important steps. We are establishing a new India-Israel CEOs Forum. Acquiring business visas from each country has become easier today than it has ever been, thanks to steps taken by both governments. We are also asking our respective business leaders to suggest ways in which we can bring our bilateral trade closer to its real potential. Together we are creating and funding new avenues for joint cooperation, including in industrial and technological research and development.

The "Make in India" initiative to strengthen the Indian manufacturing base has been enhanced by its Israeli "Make with India" counterpart. We are pleased that this vision is already bearing fruit.

We both recognise the threat terrorism poses to our countries and to global peace and stability. Accordingly, a few years ago we signed a landmark agreement on cooperation in homeland and public security. India and Israel are committed to working together to fight this scourge.

This week's historic visit, as we celebrate 25 years of full diplomatic relations between India and Israel, reflects not just the close cooperation of our governments, but also the great sympathy and affinity between our peoples. We marvel at the changes we have witnessed over the last two and a half decades and are proud that India and Israel are genuine partners for development, technology, innovation and entrepreneurship.

We are confident that 25 years from now, Indians and Israelis will look back on this visit as the first of many historical milestones that we reached together in the great friendship between our peoples.

Narendra Modi is Prime Minister of India and Benjamin Netanyahu is Prime Minister of Israel