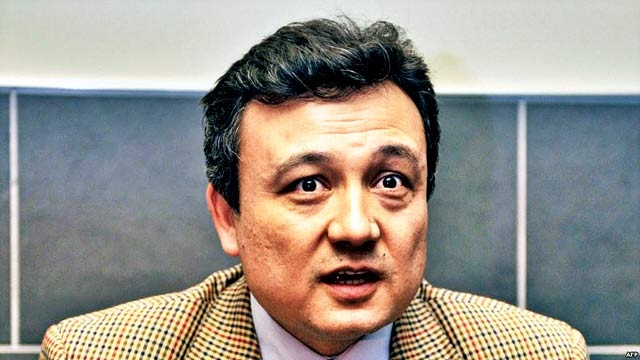 India pays China in same coin, issues visa to its 'terrorist' Dolkun Isa
IFTIKHAR GILANI
| Sat, 23 Apr 2016-07:00am , New Delhi , dna
http://www.dnaindia.com/india/report-amidst-border-bonhomie-india-gives-visa-to-chinese-dissident-dolkun-isa-2205164
Visa to Chinese dissident leader a departure from policy?
Even as China has for the first time publicly offered to meet India "half way" on the vexed boundary dispute, Prime Minister Modi government's anger at Beijing's justification of blocking the proposal at the UN to designate Pakistan-based terror group Jaish-e-Mohammad chief Masood Azhar a terrorist, doesn't seem to be waning away.
In a departure from the past, India has allowed Chinese dissidents – including the World Uyghur Congress leader Dolkun Isa -- from around the world to assemble in Dharamsala in Himachal Pradesh next week to hold an international conference seeking transition to democracy in the communist country. Dolkun has been dubbed as a "terrorist" by Beijing.
Dharamsala is also home to exiled Tibetan government. Dalai Lama is also expected to attend the conference. So far New Delhi would allow only Tibetans to protest against Chinese government policies. But in recent times, India has given visas to some of the dissident groups active in the neighbouring countries.
Earlier, officials on India and China said the border negotiations reached a stage for the political leadership on both sides to take a decision to reach a solution. In a significant statement, the Chinese foreign ministry has said both countries should "meet each other halfway" to reach a "fair and reasonable" political solution to the border dispute acceptable to both sides. Experts say, this shows Beijing's willingness to make concessions on the vexed issue.
As national security advisor Ajit Doval, who held border talks with his Chinese counterpart Yang Jiechi, concluded his Beijing visit, China said in a statement that both sides had in-depth and candid exchanges on the boundary question, bilateral relations and relevant international and regional issues.
"In the meantime, the two countries should properly manage and handle disputes, strengthen consultations on boundary affairs and well safeguard peace and tranquility in boundary regions so as to create favourable conditions for the development of bilateral relations," the statement said.
External affairs ministry spokesperson Vikas Swarup, also said the discussions focused on two broad issues – one, efforts to find a fair, reasonable and mutually acceptable solution to the boundary question and two, maintenance of peace and tranquility in the border areas.
"On the first matter, both sides are discussing a framework and the 19th round carried forward these discussions. On the second issue, both sides agreed that no major incident had taken place in the last several months," Swarup said.
"They discussed various means to strengthen peace and tranquility in the border areas. In this context both sides agreed to establish a hotline between the two armed forces and we will now work out the modalities. While China has a claim on Arunachal Pradesh in eastern sector, India says, Aksai Chin in Ladakh area of Jammu and Kashmir was illegally occupied by China during the 1962 war.
Though, China is yet to react to the visit of leading Chinese dissident to Dharamshala conference, it is bound to develop into another irritant between the two countries. Dolkun Isa, who lives in Germany, has been invited to the conference being organised by the US-based 'Initiatives for China'. Uyghurs and many other Chinese dissidents in exile are expected to attend and discuss democratic transformation in China.
Expressing unhappiness about reports that Dolkun has been given the visa Chinese Foreign Ministry spokesperson Hua Chunying said, "What I want to point out is that Dolkun is a terrorist in red notice of the Interpol and Chinese police. Bringing him to justice is due obligation of relevant countries."
When asked about the issue, external affairs ministry spokesperson Vikas Swarup said,"We have seen the media reports and external affairs ministry is trying to ascertain the facts."
Isa, who is still in Germany said he had an electronic visa to come to India next week for a pro-democracy conference to be held in Dharamsala. "I haven't decided yet on whether to come to India... I have got an electronic visa. The Chinese government is not happy, India should guarantee my security and free movement," he said. "China has put me on Interpol list since 1997. Most countries have just ignored it. India is a democracy. I don't think I'll be arrested but I don't want any difficulties either." Isa was given asylum in Germany in the 1990s. China had raised a huu and cry earlier, over Isa receiving a rights award in the United States.
Hundreds of people have been killed in unrest in Xinjiang in the past few years. The government blames the violence on Islamist militants wanting to establish an independent state called East Turkestan for ethnic minority Uighurs, a mostly Muslim people who speak a Turkic language and hail from Xinjiang.